Roundabouts for iPad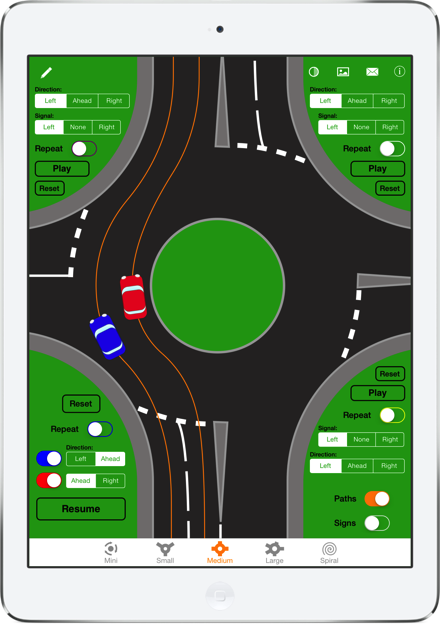 Roundabouts is the ultimate teaching aid for briefing UK learner drivers on the subject of roundabouts.

The blue & red cars coming from the bottom of the screen demonstrate the correct procedure in each situation. The user can control cars coming from other directions to demonstrate how interactions with other road users might occur. All cars can be paused in any position. Other road users in the app can have their signals turned on and off to replicate real life situations in which other road users do not signal correctly.

The purpose of this app is to provide a flexible tool with which the instructor can set up and animate a multitude of different situations to aid in teaching various aspects of navigating roundabouts in the UK. The instructor is in control: it is up to you (or your pupil) to pause the vehicles on screen so they don't hit each other. The app has been created in this way to provide maximum flexibility for the instructor in how they use it.

Includes the following five sections:

• Mini Roundabout
• Small Roundabout
• Medium Roundabout
• Large Roundabout
• Spiral Roundabout

Each section also includes the following extra features:

• Briefing text
• Option to email a link to online briefing
• Option to save your own images into the app
• Easy-eye colour mode (ideal for Irlen sufferers)
• Drawing tool

Click below to get it now on the iTunes App Store. Only 3.99!


"Great app a must have for any driving instructor"
App Store review by Shola123
"All of your apps are terrific and this is no exception."
App Store review by Downton Fan
"we need this one so badly and it is excellent"
App Store review by Uyuyut
PLEASE NOTE: This app is intended as a training aid and should not be considered a substitute for professional tuition from a qualified driving instructor.