Position for iPad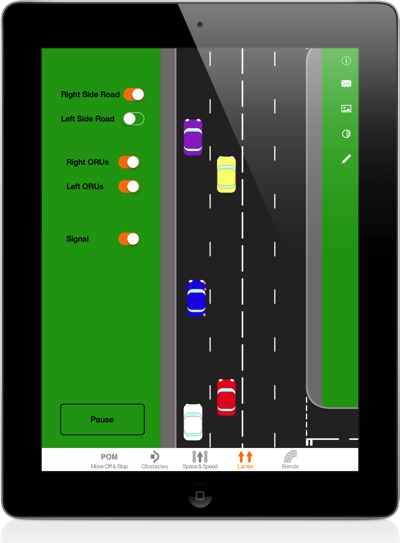 Position for UK driving instructors. Features animated content covering the following lessons/briefings:

Moving Off & Stopping
• Animated moving off and stopping
• P.O.M. & M.S.M. routines
• Steering wheel demonstrator
• Option to add other road users and move them around on screen

Obstacles / Meeting Traffic
• Dealing with obstacles on the left, right, or both sides of the road
• Meeting other road users who may or may not be following the rules!
• Meeting other road users in busy situations

Space & Speed
• Slowing down for situations with limited space
• Slowing down even more for oncoming traffic when space is limited

Lanes
• Changing lanes with or with our other road users present
• Signalling is optional
• Side roads can be added to show how signals can be misleading

Bends
• Correct position for left & right bends
• Limit points

Each session also includes the following extra features:

• Briefing text - ideal for PDIs and learners
• Option to email a link to online briefing
• Option to save your own images into the app
• Easy-eye colour mode for reduced brightness & contrast
• Drawing tool

Click below to get it now on the iTunes App Store. Only 3.99!


"Another great App"
App Store review by mariefer. 01
"Love the beginner move off and stop."
App Store review by Alfiemag
"I find this app very useful."
App Store review by George.W.Goose
PLEASE NOTE: This app is intended as a training aid and should not be considered a substitute for professional tuition from a qualified driving instructor.