Manoeuvres for iPad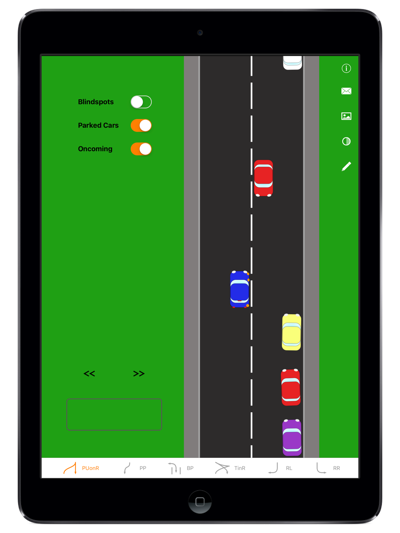 Based on the UK driving test, Manoeuvres is the ideal app for driving instructors and learner drivers in the UK or Ireland.

This app walks you through every step of every manoeuvre - perfect for learning at home, or for instructors who want to give an engaging briefing inside the car.

All five manoeuvres are included:

• Turn in the Road
• Parallel Park
• Bay park
• Reverse Left
• Reverse Right

All steps in each manoeuvre are fully animated. You can also skip forwards and backwards between the various steps.

You can highlight the various blindspot checks that are specific to each manoeuvre.

You can also draw on top of the backgrounds and animations - ideal for instructors during lesson briefings.

Manoeuvres is simple to use while being a highly effective learning tool.

Also included is a full description of each manoeuvre - especially helpful for trainee instructors learning their briefings and learner drivers keen to ensure familiarity with every aspect of the manoeuvres.

Click below to get it now on the iTunes App Store. Only 3.99!


"Very easy to use and very effective. I would not hesitate to recommend it."
App Store review by KP-ADI
"It runs very smoothly through each reversing manoeuvre with all the right points covered."
App Store review by MissBigHands
"I like the way this app breaks down each manoeuvre into steps."
App Store review by 1stJSH
PLEASE NOTE: This app is intended as a training aid and should not be considered a substitute for professional tuition from a qualified driving instructor.