Traffic Lights for iPad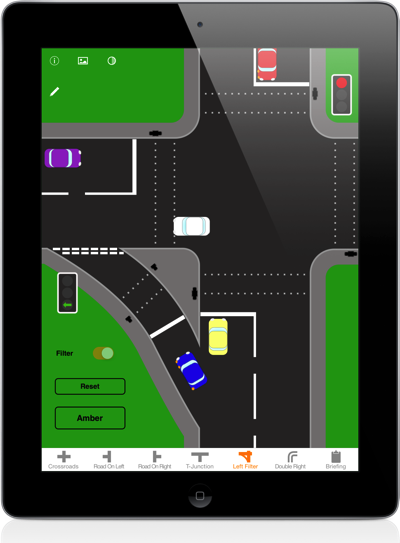 An interactive guide to traffic light junctions in the UK.

This app is tailor made for driving instructors to brief pupils on the intricacies of traffic light controlled junctions, with particular attention given to the tricky subjects of position when turning right, crossing the path of oncoming traffic, and filter lights.

Learner drivers will find this app to be a valuable guide for revision, studying the animations and using the detailed briefings to build up a thorough knowledge of how to tackle a wide range of situations.

The following sections are included:

• Crossroads
• Side road on the left
• Side road on the right
• T-junction
• Left Filter
• Double Right
• Full briefing

Each road section contains animations demonstrating where to position, when to go and how to go there.

Each road section also includes the following extra features:

• Briefing text - ideal for PDIs and learners
• Option to email a link to online briefing
• Option to save your own images into the app
• Easy-eye colour mode (ideal for Irlen sufferers)
• Drawing tool

Click below to get it now on the iTunes App Store. Only 3.99!


"This is a great app and I find it so very helpful."
App Store review by Bullock567
"Pupils love it, it explains exactly how to handle traffic light junctions."
App Store review by Harry Makepiece
"Been using this app for two weeks and I am very impressed."
App Store review by Joed1963
PLEASE NOTE: This app is intended as a training aid and should not be considered a substitute for professional tuition from a qualified driving instructor.