Pedestrian Crossings for iPad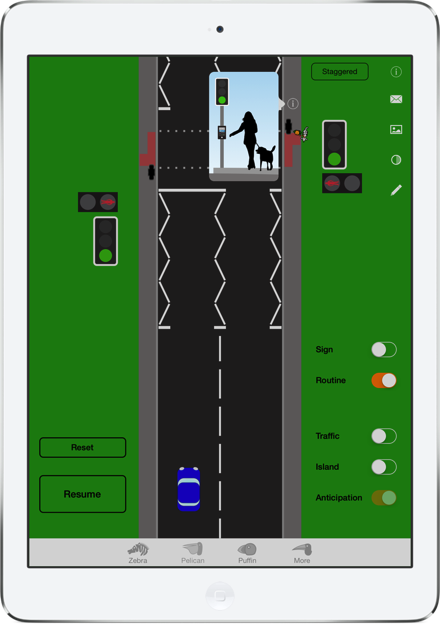 Designed specifically for UK driving instructors, this app is the essential teaching aid for Pedestrian Crossings.

The app is divided into four sections:

• Zebra Crossings
• Pelican Crossings
• Puffin Crossings
• More (Toucan & Pegasus/Equestrian Crossings)

The Zebra, Pelican & Puffin sections each include an animated demonstration of how to approach the crossing using the MSM (Mirror Signal Manoeuvre) routine.

In the animations, pedestrians are shown approaching and using the crossings.

Traffic can be switched on and off to demonstrate the effect of an obstructed view during the approach to the junction.

Traffic islands can be switched on and off to show how they affect driver behaviour in different situations.

For Pelican & Puffin crossings the correct light sequence is demonstrated.

The More section includes images of the Toucan & Pegasus/Equestrian Crossings. The animations in the Puffin section demonstrate how these crossings should be approached.

You can use the built in drawing tool to add further detail.

With the touch of a button, you can send an email to your pupil from within the app, enabling them to look up and revise the details in between lessons.

You can also save your own images into the app, either from your photo library or by taking a photo with your iPad's camera.

Pedestrian Crossings is simple to use while being a highly effective learning tool.

Click below to get it now on the iTunes App Store. Only 2.99!


"Great app"
App Store review by Matty G10
"Another great app from Neil."
App Store review by Martinhero
"Wonderful App so easy to use, pupils love it as well"
App Store review by mariefer. 01
PLEASE NOTE: This app is intended as a training aid and should not be considered a substitute for professional tuition from a qualified driving instructor.