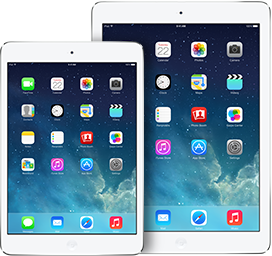 On January 27th 2010 Apple unveiled the iPad, and the first ones hit the streets in April of the same year. It was a monumental step. Despite the disparagement of a few naysayers, the iPad has revolutionised the computer industry, just as the iPhone revolutionised the smartphone industry three years earlier.
As with the iPhone, Apple was not happy to release one iPad and leave it at that. They have already released several more iterations of the iconic device, each an improvement on the last. This is mainly down to Apple's obsessive desire to advance and refine their products, incorporating the latest developments while constantly chasing an optimised user experience at all costs. It is also a response to the fact that Apple's competitors have spent the last four years trying desperately to come up with their own answer to the iPad, copying Apple's successful formula while hoping to leverage slight improvements in technical specifications to gain an advantage.
Over the past four years, Apple has also expanded the range of iPads, so that rather than having a one-size-fits-all approach, users can pick and choose the size and specification (and price) that suits them. This article provides an overview of the various iPad models currently available, and offers some tips on how to choose the one that's best for you.
You can see Apple's overview of the various iPad models with prices and technical specifications
here
.
iPad Air
The iPad Air is the Rolls Royce of the current iPad lineup, though happily it doesn't come with a Rolls Royce price tag! With its long battery life, light weight, and ultra-thin profile, the iPad Air has been well reviewed by pretty much anybody who's anybody in the world of tech. Starting at just £399 for a brand new 16GB Wi-Fi only iPad Air, you can have the best for not a lot. This iPad has an absolutely gorgeous Retina display and is lightening fast in everything it does. The screen size is 9.7 inches, which is full size for a tablet and perfect for use in the car or on the couch. Don't expect to fit it in your handbag (or manbag), though, and it might not fit in your glove compartment either.
iPad with Retina display
This iPad has a bit of misleading name, since the iPad Air also has a Retina display. This one is perhaps more accurately known as the "4th generation" iPad (the iPad Air represents the 5th generation). The "iPad with Retina display" starts at £329 for a new Wi-Fi only model (16GB) and is being sold by Apple as a cheaper alternative to the iPad Air. The differences between the two devices are fairly subtle. The screen size is the same, but the iPad Air is just a little thinner, lighter and snappier than the 4th generation iPad.
iPad 2
Although it first became available in March 2011, the iPad 2 was still being sold by Apple until recently. Despite it's age, the iPad 2 is still a handy device. It's basically the non-Retina version of the full-size iPad: the screen is the same 9.7 inches as the iPad Air, but with half the pixel density, meaning text and graphics are not as sharp. The overall performance of the device is good, although everything is just a little less refined than it is on the Air. Battery life is very good. The iPad 2 provides a good user experience, with a large screen in a thin, light package. Beware, though, at three years of age the iPad 2 is likely getting close to obsolescence, as software is constantly moving on and older devices usually struggle to keep up.
iPad mini
First launched in late 2012, the iPad mini was Apple's response to those who wanted a smaller, more affordable iPad. Although cheaper in price, Apple has gone to great lengths to ensure that the iPad mini has the same high standard of fit and finish as the larger models, and that the user experience is equally good. Some driving instructors feel the 7.9 inch screen is a little small for use as a teaching aid, while others swear by it. The iPad mini is certainly a very lightweight and compact package, great for slipping into a handbag or glovebox, and starting at only £249 for a brand new 16GB Wi-Fi only one, it's the cheapest iPad on the market.
iPad mini with Retina display
The name tells you most of what you need to know about this particular model of iPad. If you want the compact convenience of the iPad mini combined with the gorgeous clarity of the Retina display, this is the iPad for you. It starts at £319 for a new 16GB Wi-Fi only model.
Refurbished
If you're in market for an iPad and determined to get a bargain,
Apple's Refurbished store
is an excellent place to look. Here you can pick up all sorts of great deals on as-new or nearly-new iPads, all of which come with the same one-year warranty as the brand new versions. Supply is limited, though, so grab 'em while you can!
Second-hand
If you're confident buying second-hand, there are good deals to be had on reseller sites such as eBay. It's important to note that buying this way offers much less protection than buying direct from Apple, or from another well known retailer. Make sure you know what you're getting, and always carefully check the seller's feedback before deciding whether to buy from them.
Obsolescence and the upgrade cycle
It is recommended that you avoid buying the original (1st generation) iPad if you want to use the latest and greatest software on your device. Even though it was brand new and revolutionary only four years ago, the original iPad is already considered obsolete in the sense that it is not capable of running the latest Apple software. This results in a less optimised (and possible less secure) user experience. It also means the device cannot run the latest apps, which is a major downside since new and exciting developments are coming along all the time in this dynamic new field.
Buying a tablet is similar to buying a smartphone in the sense that it's not something you buy once and forget about. The "upgrade cycle" for a smartphone or tablet device is around one to four years, so it's worth bearing in mind that whatever model you buy there will come a time when it starts to feel slow and out-of-date, and you will want to trade it in for something newer and snappier. Knowing this, you can plan ahead by making sure you take good care of your iPad, so you can get a good resale price for it when it comes time to upgrade.
Glossary
GB: Gigabytes. This figure (either 16, 32, 64 or 128 for an iPad) represents the amount of storage space the device has. Many iPad users find that 16GB is perfectly adequate for their needs. More storage is needed if you want to keep a lot of videos on your iPad, or if you need it to hold literally thousands of photos or songs, for example.
Retina display: According to Apple's terminology, a Retina display is one with such high resolution that the human eye is unable to discern individual pixels at a typical viewing distance. This means that what you see on the screen appears less like something you see on a computer monitor and more like something printed in the pages of a magazine.
Wi-Fi only: Unsurprisingly, a Wi-Fi only iPad connects to the internet via Wi-Fi only. This may be via your home network, or a public Wi-Fi hotspot. Each iPad comes with a Wi-Fi only option, or for around £100 more you can have Wi-Fi and a cellular connection similar to your mobile phone. You also need to pay to maintain the cellular connection, just as you do with your phone. It's a more expensive option, but many people find that it's worth it for the "always on" internet connection wherever they roam. Even if you go for the cheaper option and plump for a Wi-Fi only iPad, you may be able to "tether" your iPad to your smartphone. Tethering allows your iPad to piggyback on your phone's cellular connection, giving you mobile internet on your iPad without the additional costs.