Another major
Records
update has just gone live on the App Store. Here's what's included:
Show Me Tell Me options:
Now you can view the full list of DSA vehicle safety questions and answers within the app. Just tap the info ("
i
") button on the main screen where your pupils are listed. You can also email the questions and answers to your pupil from the pupil's Details section. Once sent, Records will remember that you've sent them, although you can always send again at any time.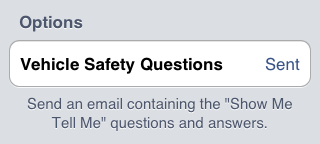 Keep others in the loop:
In your pupil's Details section, you can add an additional email address. Scroll down and select the option to "Cc Emails". Now every time you send a progress update, a copy will automatically be sent to the additional email address. Perfect for keeping parents constantly informed about their child's progress.

Instructor Apps integration:
If you use the
Instructor Apps
web service, you can tell Records to automatically send a copy of each progress update to Instructor Apps. Instructor Apps will identify which pupil the update is for and add it to their online record. To enable Instructor Apps integration, select Records in your device's Settings app.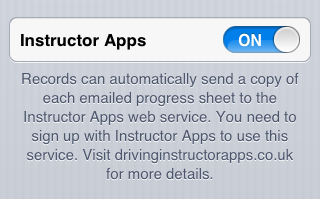 Help & FAQ:
When you tap the info ("
i
") button on the main screen there are a couple more options in addition to being able to view the the Show Me Tell Me questions. There also a Help page, which is basically a user manual for the app, and third page which lists some frequently asked questions and answers relating to the app.
Lesson Times:
This is a major feature and something that a number of users have asked for. You can now use Records to maintain a list of each pupil's preferred lesson times. You can reorder the list to show the pupil's order of preference. When you want to add a lesson to your diary, all you need to do is tap it. The calendar interface will pop up on your screen, you can make any changes you wish, or just tap the Done button to proceed. The lesson will be added to your diary without you having to leave the Records app. The new lesson will then sync with iCloud or Google Calendar, depending on how you have your calendar set up.
This makes adding the next lesson to your diary so fast and simple it's hard to believe.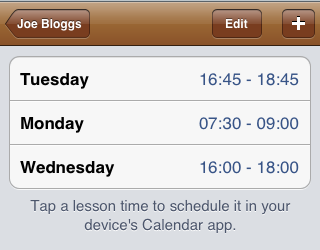 Also:
New fields for Progress and Country Roads have been added. The user interface has received various tweaks and performance enhancements.
I've got plenty more planned for this app and development work is ongoing as you read this. If you don't already use Records, it's a steal at £3.99 and is available on the App Store by tapping the button below. If you do already have the app, the update with all of the above features is absolutely free!