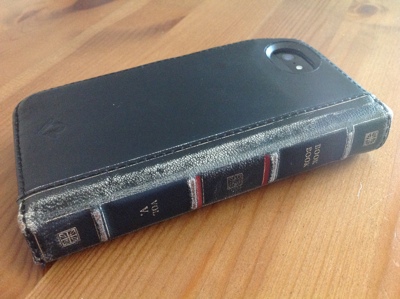 A few months ago I posted an article (
The Rules
) about how to look after your iDevices and make sure they don't get lost, stolen or smashed into little pieces. We spend a lot of money on our iPhones and iPads, and I don't mind spending a bit more on a decent case to provide some added protection. I'm very fussy about which case I use, and there are four primary factors I take into account when choosing which one to buy:
1. It should offer good protection. In the case of my phone, it needs to be protected if it is dropped, so something that will absorb impact (especially around the corners) is necessary. iPhones and iPads are both prone to picking up scratches on the back and on the screen, so protection can be good there as well.
2. It should look good. For better or for worse, we spend a lot of time looking at these devices on most days. I don't need a fashion accessory, but I don't want to spend all day looking at something ugly. An Apple device is a beautiful thing. If you're going to clothe it, you should clothe it in beautiful clothes.
3. It should feel good. One of the things I love about Apple devices is that they feel so good in your hands. Few companies pay so much attention to how a device feels when you hold it: the tactile sensation of every surface, every button push. Putting a case on your device can completely ruin this experience, so I like to make sure I get a case that feels good to touch. I also prefer cases that allow you free access to the device's buttons. (Some cases add their own buttons on top of the device's buttons, which rarely feel as good when pressed.)
4. A case should be practical. A good case will add functionality to your iPhone or iPad, without compromising how you use your device.
For my iPhone, the BookBook by Twelve South has been the perfect solution. Here's why:
It offers excellent protection all around my iPhone. Nothing is going to touch the back, sides or corners, and the wallet part of the case folds over the screen when the phone is not in use.
It looks great. A simple, understated, olde-worlde book design. No bells, no whistles.
Because it's made of real leather, the BookBook feels good in your hands.
It gives access to all the iPhone's buttons as well as the headphone and charging ports. The iPhone 5 version has a hole for the camera and flash but the version for the iPhone 4/4S unfortunately does not. If you want to use the camera on your iPhone 4/4S you have to push the phone up so it pokes its top outside the case.
The case is very practical because it's also my wallet. There's space for cards and paper money. I don't need to carry much stuff around with me, so this does the job perfectly.
My main criticism of this case is that you can't easily access the volume buttons on your phone when it's folded shut in your pocket. This is a minor quibble, however, and irrelevant if you're using Apple's headphones with the built-in volume control. It also doesn't have space for lots of money and none at all for coins, so if you like to carry oodles of cash around you might need to rely on your pockets or a proper wallet.
I love my BookBook. It looks and feels good and it protects my iPhone. As it doubles up as my wallet it also makes my life easier on a daily basis.
There are many cheap imitations going around (not real leather, poor design etc) but the BookBook by Twelve South is the original and best.
At around £50 it's not the cheapest iPhone case in the world, but for me it's worth every penny. As it's made from real leather, it's also very hard wearing. My girlfriend has been using one on her iPhone 4 for over two years and it's still going strong.
If quality matters to you, make sure you get the real deal, not a dodgy rip-off. The links below are the best prices I could find on Amazon and are for genuine Twelve South BookBooks:
Twelve South BookBook Leather Case for iPhone 4/4S
Twelve South BookBook Leather Case for iPhone 5
You can also get the BookBook for iPad:
Twelve South BookBook Leather Case for iPad
And for iPad mini:
Twelve South BookBook Leather Case for iPad mini
There are BookBooks out there for MacBooks and MacBook Pros as well.
I've only ever used the iPhone version but, the iPad and MacBook versions also get great reviews on Amazon.